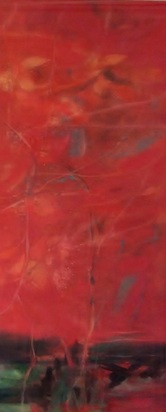 Ursula's paintings are wonderfully colorful and dynamic representations of the world around us. Inspired by the cities that she has lived in, Ursula paints subjects ranging from cityscapes to floral to figurative adding her unique quality to make the subject more alluring.

Inspiration for Ursula's artistic vocation has been constantly reinforced by her many surroundings. In her early years sketching was a passion. Later while attending the Montreal Museum of Fine Arts School she was always seen drawing. Then she became flamed by the vibrant world of colors. Her passion for art expression through colors has remained powerful ever since.

While living in Europe she had the opportunity to appreciate the Masters where she learned to paint with an impressionistic style; but at the same time practiced the free form of expressionism. Participation in expert workshops in Munich, Barcelona, Zurich and the MFA in Boston helped round out her style. Exhibitions have come about frequent enough to reinforce this prolific stage in her career.

Ursula's strong passion for color leads her to a higher dimension of beauty and well being. She is constantly challenging herself and seeking for excellence for the sake of learning to become a better painter. She has proven her versatility by producing outstanding oil paintings in varying styles (impressionism, pointillism, cubism and abstract).




---
---